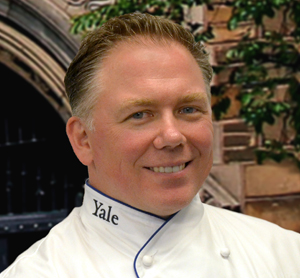 A native to California, Benson was raised in the San Francisco Bay Area James currently resides in Fairfield Connecticut with his wife Kathleen and Daughters Caitlin and Annabelle.
James graduated from the Hotel and Restaurant Management school at the City College of San Francisco. Inspired and driven by his Italian roots he set off to Italy to apprentice at the best restaurants on the Riviera Ligure where he landed a job at the 2 Star Michelin Balzi Rossi in Ventimiglia. 
Upon returning, he joined the opening team at Le Cirque 2000 in New York. After a couple of years, James moved to Las Vegas to take the role of Executive Sous Chef at Le Cirque and Osteria del Circo at the Bellagio. 
Following the Bellagio Benson joined Wynn as a member of the pre-opening team as Chef de Cuisine of Catering and Special Events. Over the course of his time with Wynn Resorts James held the positions of Chef de cuisine and Executive Chef of Catering and most recently as Executive Chef of Food and Beverage of Wynn and Encore in Las Vegas.
Benson currently is the Director of Culinary Excellence responsible for overseeing the culinary vision, recipe, training, menu and product development provide leadership and operational support across departments and seek ways to strengthen the culinary program, developing talent and create innovation.
Throughout his career Benson has been honored to have been a guest chef at several national and international food events which included dinners at the James Beard House, Guest Chef at The Shangri-La Hotel in Bangkok, and at the Hotel Adlon in Berlin, Germany. He received numerous accolades in publications such as Gourmet Magazine, Wine Spectator and Grace Ormonde to highlight a few.