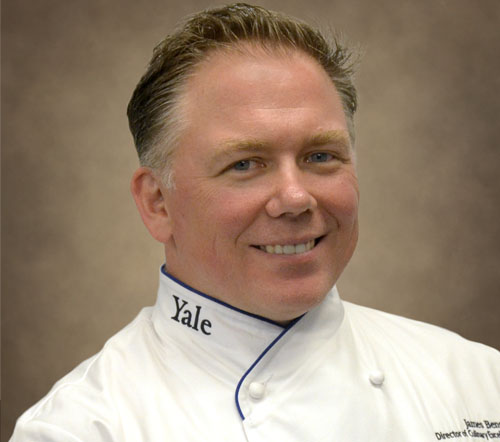 This nourishment occurs every day by focusing on wholesome foods prepared in ways that are craveable and indulgent. Our commitment to our local farmers and purveyors provide access to the best produce and seafood that New England offers, allowing us to deliver exceptional food to the Yale Community. These partnerships give us the necessary resources to create menus comprised of over 80% plant-based offerings. Plant-based agriculture is far less demanding of land and other natural resources than animal production. Moving plant-based proteins to the center of the plate in healthy, delicious, and innovative ways can help influence the way we choose to eat – both present and future. 
Yale Hospitality's plant-forward commitment is reflected in our culturally-based menu development, particularly the Mediterranean diet influence found in many of our recipes. The Mediterranean diet emphasizes eating healthier foods with lower carbon footprints — such as rice and whole grains, legumes, seeds, nuts, fruits and vegetables — while consuming moderate amounts of seafood, poultry, eggs, dairy, and red meat sparingly. This plant-centric approach aims to make incremental yet influential changes with lasting impact. 
Our mission at Yale Hospitality is to nourish a culture in which the interwoven pleasures of growing, cooking and sharing food becomes an integral part of each guest's experience at Yale. – Rafi Taherian
Our responsibilities to the health of our students and planet are honored through our many wellness and sustainability programs, which influence our menu development. These impactful initiatives include salt reduction, yielding a 37% decrease over the past decade; and our spa water program, which has yielded a 35% reduction in the consumption of sugary beverages; and our food waste reduction initiatives encourage guests to make responsible choices: "take what you eat, and eat what you take."
Our team of chefs are dedicated to these principles and are constantly developing new dishes around this "Better for You" philosophy. Their ongoing quest for innovative solutions has resulted in the creation of an exclusive 60:40 blend of grass-fed and grass-finished beef with mushrooms. On average, beef appears on our weekly menus only three times a week. As a result, over the last five years, overall beef consumption has been reduced by 30%, while consumption of legumes has increased by over 40%. 
Yale Hospitality's menus lead the way for ample nutrition education and food literacy opportunities. We're able to provide experiential opportunities through Food Conversation events, guest chef engagements and seasonal festivals – while deepening our community's knowledge of ancient sustainable grains, biodiversity, and a variety of culturally diverse cuisines. These opportunities to share our menu philosophy and initiatives are all integral components in creating memorably appetizing experiences at Yale.