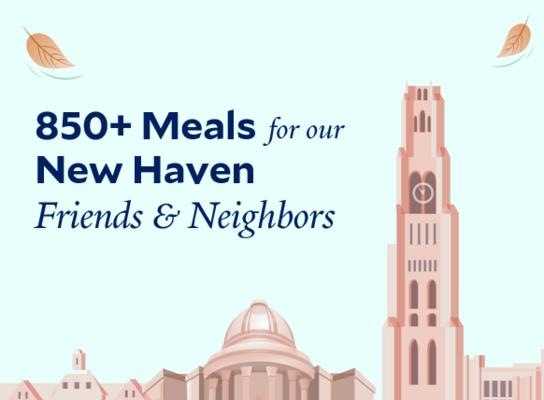 New Haven, Conn. — "There's no reason to go hungry in New Haven."
Years ago, this comment was shared with Steve Werlin, Director of Downtown Evening Soup Kitchen (DESK), fueling an ongoing commitment to create positive community impact. That same commitment continues to be echoed throughout the Yale Hospitality organization.
"We cannot live in our own bubble," says Rafi Taherian, Associate Vice President of Yale Hospitality. "Yale and New Haven are inextricably linked, and as such, supporting the community continues to be a critical aspect of what we do. Our relationship with the Downtown Evening Soup Kitchen is a great example."
For the last 15 years, Yale Hospitality has closely partnered with DESK through daily food rescue, fundraising events, and annual holiday meals. The "Thanksgiving for All" tradition continues this Thanksgiving through the preparation of meals for over 700 community residents, supporting the city's residents in need. "It's about getting food to people who otherwise don't have the resources," shares Werlin. "Between our programs and those with our partners across town, it's really just providing that life-saving support, feeding those right in New Haven."
DESK is a community-based organization founded over 30 years ago that aims to serve people experiencing homelessness or living in poverty in the New Haven area by, "providing food assistance and services that promote health, community, and equity" shares Werlin. The three main programs they operate throughout the year are nightly dinner service, weekly food pantry, and a new Resource and Welcome Center. 
While the partnership started with Yale Hospitality culinary professionals primarily assisting with the production process, it eventually evolved into a close-knit collaboration. "The DESK kitchen was limited to two ovens, so they weren't able to cook all of the turkeys donated to them," recounted Dan Flynn, Director of Hospitality and Maintenance at Yale Hospitality. "So our staff took the initiative to push the envelope and make it happen. 'Can we come in at night and use the Commons kitchen to cook these turkeys? And since we have large mixers, can we make the mashed potatoes too?' It's actually become a tradition for many of our staff members - not only preparing the meals - but also going on Thanksgiving morning to help distribute and serve."
This tradition has continued every year since. Each Thanksgiving, chefs at the Yale Hospitality Culinary Support Center (CSC) receive food items that have been donated to DESK, including whole turkeys, to prepare and cook holiday meals. Before the COVID-19 pandemic, DESK would traditionally serve these 1,700 meals to New Haven community members on Thanksgiving Day. Due to ongoing precautions throughout the pandemic, the meals have been pre-packaged for safe distribution since 2020.
Yale Hospitality's CSC team is geared up to prepare 850 meals this year — over 100 more than the meals packaged in 2020. On Thanksgiving Day, volunteer drivers and staff will deliver them directly to homes throughout New Haven, including partner organizations such as Interfaith Volunteer Caregivers and the Department of Elderly Services.
"Around mid-November, we receive and store upwards of 80 turkeys from DESK," described Marchitto. "The week before Thanksgiving, we receive the rest of the ingredients and begin preparing to produce a complete - and delicious - Thanksgiving dinner." 
The production team at CSC, led by Production Manager Anthony Marchitto, will cook these meals using donated food from DESK. This year's meal will include oven-roasted turkey with homemade stuffing, mashed potatoes and gravy, roasted brussels sprouts, roasted harvest vegetables, and cranberry sauce.
The aforementioned 'we' is a testament to the Yale Hospitality team spirit, effort, and dedication involved to make this all a reality. "We have 30 to 40 staff members that come in around 4 a.m. just to start packaging these meals," added CSC Managing Director Christina Wethington. "It just goes to show, we're all on the same page about how important it is to our whole team to support our friends and neighbors."
Aligned with Yale Hospitality's ongoing sustainability and food waste-reduction efforts, the CSC team and DESK ensure that all ingredients are utilized. "Any leftover turkeys that do not make it into meals are redistributed back to DESK," explained Marchitto, "and in turn, they hand them out to households that are planning to cook their own holiday dinner."
Year-Round Food Rescue, Donations & Fundraising: Not Just a Thanksgiving Affair
Yale Hospitality's collaboration with community partners and food pantries is not limited to Thanksgiving—in fact, the partnerships span the whole academic year. "For example, donations and food rescue programs are ongoing throughout the year, rescuing surplus food to be shared with folks in need," shared Marchitto. Recently, Yale Hospitality donated equipment to DESK and has been sharing its experience as they build a new kitchen. "Having Yale Hospitality as advisors on this project along with some donated equipment is tremendously helpful," commented Werlin. "It's been great to just have this wealth of knowledge."
But as with everything related to Yale Hospitality - it's always bigger than food. In support of community and belonging, the multi-faceted organization hosts a fundraiser in a designated dining hall each spring. The proceeds from the Breaking Bread Dinner ticket sales and donations all go to DESK, raising as much as $20,000-$30,000 per dinner to help maintain community operations.
Moreover, Yale Hospitality staff traditionally volunteer at the event as cooks, servers, and more. "Our dining hall managers volunteer their time," said Flynn. "They're able to step back into the kitchen to prepare - and serve - the meal for the generous guests that come each year." The next Breaking Bread Dinner will take place in March 2023.
"Without a doubt, we can't do the work that we do at DESK without the support of Yale Hospitality," said Werlin. "They have been incredibly generous with their time, generous with their food, generous with their equipment, generous with their expertise. Yale Hospitality brings so much in terms of their skill set. I don't know how they would do this without them."
 
Get Involved, Stay Engaged
"It's very gratifying to see how our team's work makes a difference," reflected Marchitto. "Our efforts speak to how we all support Yale's mission and keep putting humanity first. Similar to the way that the community supports the university, knowing that the university supports the community in so many ways is impactful."
For Yale community members who want to get involved with DESK, Werlin states that there are multiple ways to start. "I always tell people that hunger exists 52 weeks a year, 365 days a year, all year round," shared Werlin. "We need volunteers, we need help, we need people who are either volunteering at our soup kitchen or who are coming to our pantry." Werlin also encourages students to check out DESK's other programs beyond campus or some of DESK's s service partners, such as social service providers, food pantries, soup kitchens, shelters, and housing service organizations.
For media inquiries, please contact Christelle.Ramos@yale.edu
For more information on volunteer opportunities at DESK, please visit www.deskct.org.
[Words by Olivia Ren. Illustration by Emily Cai.]