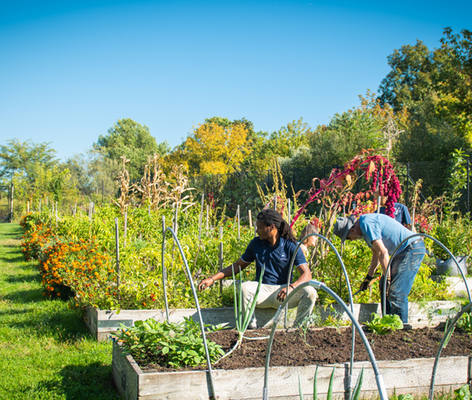 Orange, Conn. — What is being grown at the Yale West Campus Farm? In brief: fruits, vegetables, and community.
The Yale West Campus Farm is "a space for the community to congregate around the practice of growing food, as well as sustainably connecting to nature," describes Farm & Landscape Integration Manager Jordan Williams. First opening in 2013, the farm spans a quarter-acre dedicated to hosting raised-bed gardens and a greenhouse. "We want to keep the farm as natural as possible, filled with the native species that grow here," stated Williams.
Previously a Sustainability Fellow and a clinical research intern at the Yale School of Medicine, Williams joined Yale Hospitality's team in April 2022. His role provides management oversight of the Café at the Yale West Campus Conference Center – the central hub that brings the 1,600-strong campus community together every day. Trained in permaculture with an innate passion for farming, Williams began his journey at a young age. "My mother is from a place called Bull Savannah, St. Elizabeth in Jamaica, and that's a place where farming is a way of life. Visiting these places throughout my childhood instilled an appreciation of nature because it was all around me." 
Williams also gained knowledge of agricultural practices during his travels to Guinea-Bissau in 2019, 2021, and 2023. After tracing his lineage to the country, Williams spent time in different villages and learned about their histories and cultures, including their relationship with the environment. "I know what life was like for my ancestors that were taken across the Atlantic in the slave trade, but I wanted to know what it was like for the people of Guinea-Bissau over the centuries," recounted Williams. "What I was told is that they didn't change the way that they live—they were agrarian and lived in conjunction with the ecosystem… to get what they need to survive while not depleting the ecosystem of its natural resources." 
Although the Bissau-Guinean people did not label their practices as "permaculture," Williams states that his time in the country allowed him to explore it from a new lens. Permaculture, a term originally coined by Bill Mollison in 1978 to join 'permanent' and 'agriculture,' is what Williams describes as an "agricultural philosophy" of sustainability. "To me, permaculture is a certain cyclical way of growing things as well as living with nature," explained Williams. "What I do on this land will affect this land, which will then in turn affect me in that cycle. But at the same time, how do I take care of this land, so that this land can then take care of me?"
"What I do on this land will affect this land, which will then in turn affect me in that cycle. But at the same time, how do I take care of this land, so that this land can then take care of me?"

- Jordan Williams, Yale Hospitality
Over the last two years, the farm – previously known as the Yale Landscape Lab – was planted and maintained by groups of engaged student and staff volunteers in the absence of a dedicated farm manager. Their passion and commitment laid the foundation for Jordan to have plentiful resources to develop new programs and community engagement. Bringing his expertise in permaculture techniques, Williams aims to continue putting sustainability at the forefront of the Yale West Campus Farm. A plethora of species grow in the raised bed gardens, such as spinach, collard greens, cabbage, bok choy, sweet potatoes, squash, okra, corn, and tomatoes, plus a variety of pollinating species just to name a few. Around November, when the temperature begins to drop to below freezing at night, Williams intends to continue cultivating plants in the greenhouse to extend their growing season. 

According to Williams, the raised bed gardens—which are elevated off the ground with wood and filled with their medium of soil—are one of the farm's key sustainability practices. Utilizing raised beds obviates the need to grow crops directly in the ground's actual soil, which has been affected by decades of commercial agriculture before Yale acquired the land. "A lot of the commercial agriculture in this country is based on monoculture, which leeches the soil of specific key nutrients because you're growing the same thing over and over again in the same spot," said Williams. "What we try to do at the West Campus Farm is diversify what we grow. We also implement raised bed gardens so that we're not using soil that may have been contaminated or degraded in fertility. Generally, when you use raised garden beds, you're rebuilding the soil."
Another sustainability initiative that Williams has undertaken is the restoration of the farmland's native ecosystem. "There's a practice called regenerative agriculture, where you're trying to regenerate the ecosystem of a space that has been suffering from the effects of human monoculture," described Williams. "A large part of this practice consists of taking out invasive species, such as mugwort and Japanese knotweed, and replacing them with native species, which is like an experiment unto itself."
The farm serves as not only a cultivation area but also a gathering place. Williams reported that the Yale West Campus community, which includes students at the School of Nursing and seven research institutes, frequently come to the farm as a space to relax and de-stress. Moreover, the farm has numerous volunteer opportunities where those both within or outside the Yale community can come work in the gardens, greenhouse, and other spaces on the land.
"As a nursing student, the concept of 'caring for the caregiver' is emphasized to us. We must care for ourselves just as we care for others," shares Malakha Bility, a student at the Yale School of Nursing. "From watering plants in the greenhouse to enjoying a nourishing meal at the cafe, I'm grateful for the ways that Yale Hospitality helps me to care for myself. Volunteering at the West Campus Farm has been one of the highlights of my time at Yale. Ultimately, within the garden I experience a mutual care: the earth tends to me, and I tend to the earth."
John Crowley, a longtime resident of Orange, CT, began volunteering at the West Campus Farm around the fall of 2014, coming from a background of self-taught vegetable gardening. He has continued to volunteer at the farm ever since. "I already knew I would like volunteering because I like to work the earth, but it became something I really looked forward to every week," recalled Crowley. "I was self-taught, but I basically had to unlearn most of what I knew once the horticulturalists began to understand the biome of the earth."
Crowley also cited the 'social aspect' of volunteering as a chief reason for his continued engagement with the farm. "I've experienced the serendipity of meeting others who have similar interests that cut across the community," described Crowley. "We've had undergraduates, graduates, faculty, and volunteers from all over the area. The fact that Yale has a place where "town and gown" meet is a really good thing." 
"Ultimately, within the garden I experience a mutual care: the earth tends to me, and I tend to the earth."

- Malakha Bility, Yale School of Nursing
In addition to shared experience and community, volunteers can also take something else with them: fresh food from the garden! "Volunteers are always welcome to leave with however many fruits or vegetables they like," said Williams. "If you donate some of your time – 'dirt time' as I like to call it – you're going to get something in return." Furthermore, during the growing season, Williams often shares basketfuls of food at the Conference Center so that passersby can pick up freshly grown items right where they work.
Looking into the future, Williams' role is designed to enhance community connections by integrating the farm's role with the West Campus Café. Located in the Conference Center, the café offers lunch and dinner service to campus residents and visitors from 11:00 a.m. to 6:00 p.m. on weekdays.
"Of course, it's bigger than food - it's about community. The Café is a key spot for anybody that wants to come in and connect," stated Chef Chris Jamilkowski, previously the second cook at the West Campus Café. "It's a retail location that's open and welcoming to pretty much anybody: Yale students, faculty, staff and even contractors gather for lunch and so much more."
Williams and the culinary team aspire to strengthen that sense of community through events and programs, bridging the café and the farm by taking greater advantage of the farm's ingredients. "We have been discussing how to bring thyme and other herbs from the farm to use in our menu development," shared Williams. "Our goal is to get to a point where we can proudly say, 'This dish was made with farm fresh, organic ingredients right here at West Campus.' That would be an excellent accomplishment."
In addition, Yale Hospitality wishes to bring back the farm and café's joint tradition of maple sugaring. Traditionally a big maple festival was hosted where maple syrup was produced and used to develop innovative meals at the café. "That was one of the events that President Salovey knew about our work here. We even gifted bottles of the syrup to community members to enhance the visibility of Yale West Campus," Jamilkowski recounted.
A key goal of the Yale Hospitality organization is to continue enriching food literacy programs and awareness about where food comes from. Recent collaborations with local Connecticut farms and the unified approach of farm and cafe are living proof of that goal in action. "I hope that the integration between the farm and the cafe will show the importance of growing food," said Williams. "I want to empower the Yale community with food sovereignty, which isn't just about having access to good food, but also being able to have control over where your food comes from and being mindful of what kind of food you're putting into your body."
Ultimately, Williams hopes that these ongoing initiatives at the farm and the café will help reinforce connectivity within West Campus and the wider Yale community. "Our goal for this space is to expand its impact to all our students, faculty, and staff, especially on our main campus," Williams reflected, "who interact with these foods every day but may not have known how they were grown. We want to create a community where everybody is welcome in the space so that they can learn how to grow their food and live more sustainably." 
Yale's West Campus straddles the West Haven-Orange line, just off I-95 exit 41. The Campus is home to Yale School of Nursing and seven research institutes focused on scholarship in health, culture, energy and the environment.
For more information on upcoming events or volunteering at the Yale West Campus Farm, please email Jordan Williams. Learn more about the West Campus Café and view daily menu options here.
—
Words by Olivia Ren '26 and Christelle Ramos / Photos by David Zheng '23
For media inquiries, please contact Christelle.Ramos@yale.edu