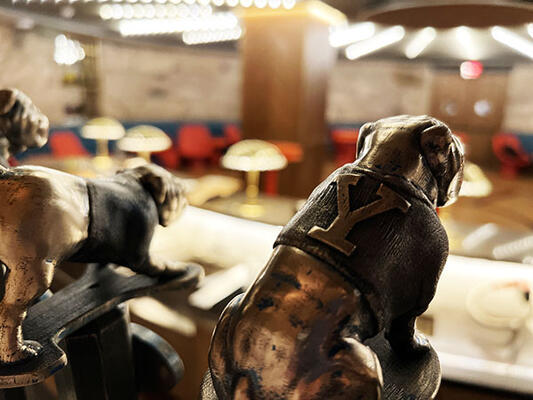 Yale Hospitality has introduced two new evening options, Ivy and The Well, to their vast footprint of dining operations on the Yale University campus.
Traditionally, a variety of options are available to students for breakfast, lunch, and dinner – with the latest dinner option ending at 8pm in select locations. Yale University President, Peter Salovey shared, "For years, undergraduate, graduate, and professional school students have asked for a place where they can gather to share ideas and connect with friends and classmates—especially late at night. The Schwarzman Center provides them with so many beautiful spaces to do those things. Whether you're upstairs for lunch, taking a moment to be mindful in the Good Life Center, or enjoying a beer and some snacks at the Well, the center offers many opportunities to relax and get to know others from all parts of campus. I am grateful to Yale Hospitality, Facilities, and everyone else who makes the center so welcoming."
After much support and collaboration with university leadership and partners, Yale Hospitality is proud to bring these concepts to life thanks to a determined team that nurtures curiosity, builds genuine connections, and takes fun seriously. Stacey Hepburn-James, Director of Hospitality Operations at Yale Schwarzman Center shares that every day is a true team effort: "There is no way we would have gotten to this point without our team of 70 who are prepping, cooking, serving in the building, those behind-the-scenes in our central office, and beyond. Since re-opening Commons in September to launching our two newest concepts this month, we are always 'all hands on deck' to create amazing experiences for our students and guests."
Among those team members are Executive Chef David Kuzma who oversees the menu concepts and development for Commons, Elm, Ivy, and The Well. Kuzma and his culinary team have worked diligently to craft fresh menus for both Ivy and The Well which continue illustrating the theme of belonging, gathering, and breaking bread together – core to the building's DNA. For two weeks in March, students were selected at random for the chance to be among the first to try items from Ivy's menu in exchange for feedback (and free gelato). "It's all about our students and we take their feedback to heart. After months of research, development, and testing, we've put together menus that we are confident will become fast favorites for our students, especially for those who seek out a quick bite at night."
For the core team which saw Yale Hospitality's spaces through the renovation process from start to finish, this is an incredibly special moment. "Whether you're a grad student or faculty member, this is a great place for deepened connection, no matter your discipline or area of focus," shared Adam Millman, Senior Director of Yale Hospitality.
IVY
On the lower level of the Yale Schwarzman Center known as The Underground, students frequently swing by to grab a coffee or lunch at Elm – and enjoy the plentiful seating to gather or study near a cozy fireplace. Ivy's open prep kitchen and the dynamic menu of craveable, updated classics with globally influenced flavors bring a fresh vibrancy to The Underground's evening hours.
"A student center is not complete without indulgent evening options. Thanks to many culinary creations from Executive Chef David Kuzma, Ivy offers the Yale community a selection of shareable small plates and student favorites like freshly rolled sushi, tacos on house-made tortillas, made-to-order sliders on the grill, and more," says Hepburn-James. Students can now connect with friends while enjoying delicious menu options, such as: Signature Tacos with cumin-rubbed chicken or sauteed mushrooms on house-made tortillas, Loaded Greek Fries tossed in za'atar, extra virgin olive oil, feta, olives, Crispy Chicken Bites packed with Gochujang or Thai Peanut flavor, Vegan brown rice Ming's Bings in partnership with Yale Alum and noted Chef Ming Tsai, and even the Osaka Oshizuhi Roll with torched seared salmon which is freshly prepared by sushi chefs onsite.
Ivy is open during the academic year, Tuesday to Saturday from 5-11pm and accepts Eli Bucks, dining points, and credit cards.
THE WELL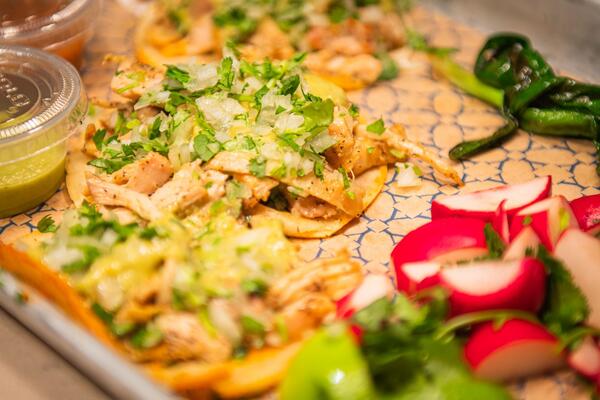 For months, beautiful wooden doors have concealed a vibrant space encircled by the Yale Schwarzman Center's original granite foundation on the lower level. Conversations about the possibility of an imminent bar built up anticipation and influenced passersby to catch a glimpse through the circular windows in the doors. On March 30, Yale University President, Peter Salovey, Vice President and Vice Provost for Global Strategy, Pericles Lewis, and Dean of Yale College, Marvin Chun hosted a group of Yale College First-Year Counselors (FroCos) in their senior year to enjoy an inaugural toast at The Well. No longer an enigma, The Well officially opened its beautiful doors to the Yale community, ages 21 and over on March 31.
The Well is an intimate circular pub directly beneath the rotunda entrance on the main level. The beauty of the granite walls is enhanced by the warmth of wooden features and vivid orange and teal seating.  It's the perfect place to connect and refresh over evening sips, featuring a wide selection of regional beers and global wines flowing from custom mascot-inspired bulldog taps. Millman shares insight on the beer selection, "It was essential that we build out a beverage menu representative of Yale Hospitality's core values around sustainable sourcing, with a focus on local and regional products whenever possible. All of the beers we currently offer are from the New England area – from here in New Haven to Massachusetts and Maine which allows us to support plenty of small to midsize breweries." Guests may also enjoy small bites with culturally-inspired flavors like Wok-Fired Peanuts with Thai Chili, Lemon & Basil Salt, Truffle Grilled Cheese on Rye, Pretzel Bites – or even the Signature Cheese & Charcuterie Platter.
The Well is open during the academic year, Thursday to Saturday from 5-11pm to ages 21+ with a government-issued photo ID card and only accepts credit card payments.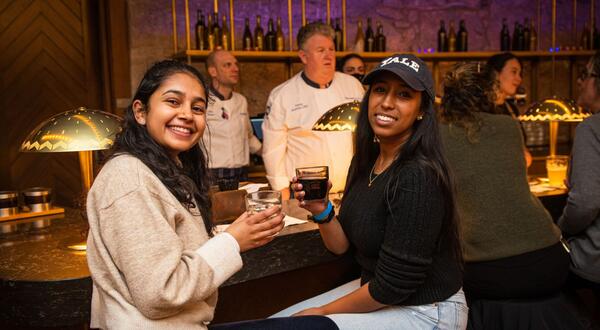 Yale Hospitality is a transformational organization with a passionate team of 800 supporting over 23 residential and retail dining operations and dedicated catering services at Yale University in New Haven. Yale Hospitality's dining operations – Commons, Elm, Ivy, The Bow Wow, and The Well at Yale Schwarzman Center are located at 168 Grove Street in New Haven, CT.
Learn More: Schwarzman Center | Yale Hospitality