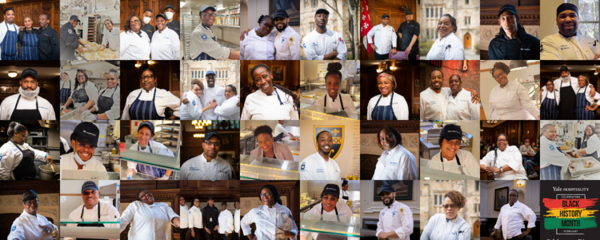 New Haven, Conn. — During the academic year, Yale students have the opportunity to participate in a variety of events that promote a sense of community and belonging on campus. These events cover a range of topics, including food literacy, sustainability, and cultural celebrations. From guest chef appearances to culturally-inspired menus, there are many opportunities for students to engage and discover new experiences.
In 2022, Black History Month celebrations took tight-knit Yale College communities, where students live throughout all four years on campus, by storm. Once again, this year, all 14 residential dining hall teams hosted special dinners to commemorate Black History Month through their culture, heritage, and pride.
Students who enjoyed these featured meals before were anticipating it once more, this time vowing to make it to multiple dinners throughout the month. Meanwhile, signage in dining halls piqued the interest of many first-years, including Troi Slade '26.
"When I noticed the signs on the dining hall tables saying 'BHM Dinners,' I knew that I was in for a treat, quite literally. It was so exciting to not only visit different dining halls but to also see how they uniquely curated parts of Black cuisine. It's a great way for my peers and I to feel included within the culinary community at Yale and to share some aspects of Black culture!"
Also, in his first-year, Rayhan Negedu '26 stated that the BHM Dinners helped strengthen connections on campus:
"I really enjoyed the Black History Month Dinner experiences helped me create connections with all of the chefs and allowed me to appreciate their stories and great recipes while linking back to my heritage as well. It helped make Yale feel even more special."
Yale College students hail from all over the United States and around the world — from over 100 countries. The impact that these dinners had to share authentic 'tastes of home' through nostalgic flavors was priceless.
"I love celebrating Black History Month in the dining halls because I get to learn more and explore the diverse food of the Black diaspora," shares Zoe Colfax '25. "The menus go beyond what you might expect to unique flavors and ingredients from the Caribbean, and beyond."
Team members honored their heritage by bringing forth their choice of recipes passed down from ancestors in Jamaica, Nigeria, and Haiti, plus looking to the future with innovative fusion meals inspired by the African continent and the Southern United States. Davenport students were especially excited for the return of Miss Jen's famous juice — a natural blend of carrots, ginger, and lime inspired by her Jamaican heritage.
"Watching the students enjoy the food I grew up eating and cook for my family made me smile," says Ellesha Hamilton, who whipped up menu items with the team at Franklin dining hall.
Amber Keys, dining hall manager, shares that getting the team at Franklin & Murray dining halls involved was a 'family' affair because many of the recipes were traditional favorites that they would be proud to make for family gatherings and celebrations. She elaborates on her personal experience leading up to the actual BHM Dinner:
"As a black woman in the culinary field, I felt honored, seen, and heard. Our entire team was so happy to see all of the students' smiles, oohs and ahhs… it allowed for a deeper connection within our college community. It was great to be honored for our contributions, but even more impactful to do the honoring and pay it forward to our hard-working team!"
Zoe elaborates that "[Dining hall] teams always go above and beyond, and I am glad they have a space to share their heritage with the Yale community through these meaningful meals."
Troi reached out to share her excitement about the different BHM dinners she attended:
"Yale Hospitality is such an integral part of the Yale community and to be able to share culture and cuisine over the course of the month, with authenticity, was amazing. As a Black student at Yale, I would love for this to happen more often and not just in February."
February may be over, but the celebration doesn't have to end. The sentiment rings true that Black History is being made every day — and it's up to all of us to ensure we keep giving it the honor it deserves.
—
View more photos on the Yale Foodie blog.
Words by Olivia Ren '26 and Christelle Ramos / Photos by David Zheng '23, Zoe Colfax '25, and Rayhan Negedu '26
For media inquiries, please contact Christelle.Ramos@yale.edu